Many folks say moving home is the most stressful thing. Moving home is like someone (and that someone is usually you and you are the cause of this devastation) has collected all your worldly goods, put them into brown boxes and into a lorry making your whole life look like a Amazon delivery van, only to spend the next six months unpacking it all, whilst unable to find important things like your bank cards, 'those' shoes or special jewellery!
We wish we could be instantly transported like in Star Trek "Beam me up Scotty to a blissful moved in state". Yet the week you move, it's like an episode from the original 1960's series Star Trek, when the crew had a transporter accident with an ion-storm sends Kirk and Spock into an alternate reality, where the caring Federation is the merciless Terran Empire, and the USS Enterprise is a warship and chaos eschews!!!
Star Trek aside, when you decide to move and before the stress of living out of cardboard boxes for months descends; first you trawl the portals (Rightmove/Zoopla/On The Market) to find a new house, which out of the hundreds of properties available to buy, you will probably only view around four or five of them, for no more than 20 minutes each. Then, you will arrange a second viewing of one or two of those initially viewed properties for the estate agency industry stated average of 30/45 minutes maximum (fascinating when you think most people take hours to decide what clothes or shoes to buy but minutes to spend hundreds of thousands of pounds on their next home!).

Then you put your property on the market with an estate agent, find a buyer for your Reading property, agree a price for both, then instruct solicitors. The property becomes sold 'subject to euphuism' ... sorry 'contract' ... as solicitors and surveyors and mortgage companies pick holes in the paperwork, threatening to wreck the chain at any moment, whilst you can't get too attached to the property you want to purchase in case the sale falls through ... phew - stressful or what??!!
Is it worth it? Worth the stress? The brown cardboard boxes? Well many Reading people think so.
In the last 12 months, 402 families have sold and moved home in Reading (RG6)
Yet the question I want raise is ... do people on certain streets in the RG6 postcode move more often than others? Well, the answer might surprise you. I looked at the Land Registry for the all the property sales going back 23 years (to 1995) in the RG6 postcode whilst also calculating the average value of a property on a particular street/road (to see if there was a correlation between price and moving). So initially looking at the top 10 streets in the postcode, in terms of pure out and out house sales, Wokingham Road is the winner with an average of 19.91 house sales per year (since 1995) as on the graph below.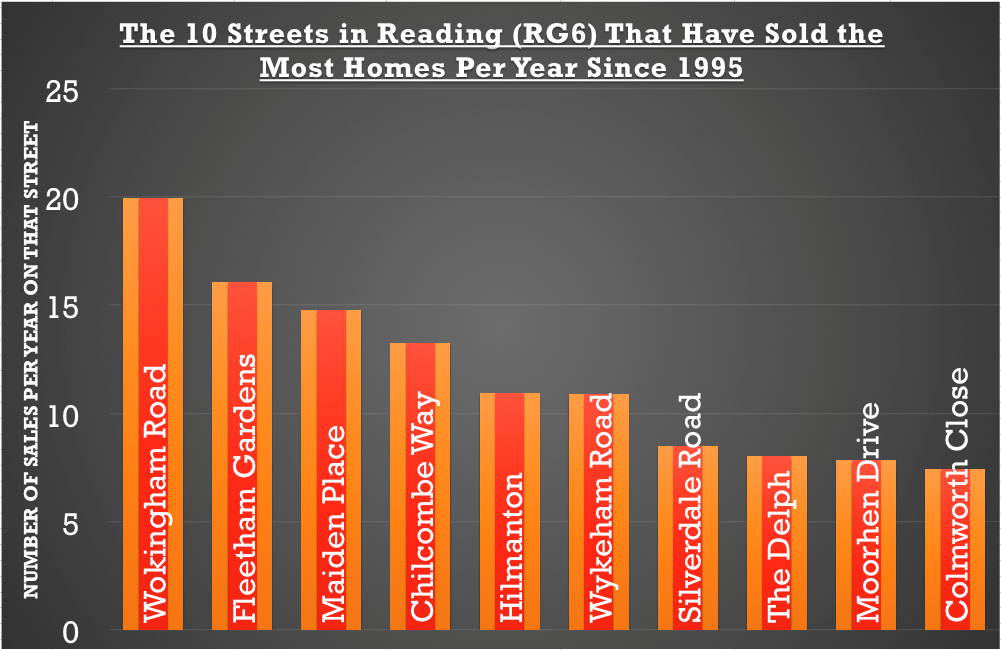 And to look at the bigger picture, the table below shows the top 25 streets, with the average value of a property on that street. As you can see, there is no correlation between the average value of a property and the number of times a property gets sold on that street.
Street

Average Value of a Property
On that Street/Road

Average Number of
Properties Sold per Year (since 1995)

Wokingham Road

£422,664

19.91

Fleetham Gardens

£251,911

16.04

Maiden Place

£197,351

14.74

Chilcombe Way

£305,021

13.22

Hilmanton

£404,508

10.91

Wykeham Road

£269,681

10.87

Silverdale Road

£425,389

8.48

The Delph

£320,553

8.00

Moorhen Drive

£374,732

7.83

Colmworth Close

£265,580

7.39

Westminster Way

£296,376

7.09

Jay Close

£410,292

6.74

Pitcroft Avenue

£285,013

6.17

Cannock Way

£250,215

6.04

Marefield

£292,225

5.91

Measham Way

£312,007

6.00

Ratby Close

£265,484

5.57

Beech Lane

£474,143

5.65

Beaconsfield Way

£275,063

5.48

Grange Avenue

£296,547

5.35

Bridport Close

£308,681

5.39

Notton Way

£296,305

5.26

Faygate Way

£248,309

5.30

London Road

£357,818

5.09

Church Road

£448,327

4.91

However, I still felt the information wasn't telling the whole story ... some roads in Reading have many more properties on than others, so I wanted to then compare the average number of properties sold by the actual number of properties on that street, to find out the streets whose owners proportionally moved (or sold more often) than the rest of the locality.
In the next article, (and I promise I won't mention Star Trek again), I will answer that question in great depth ... and the results should (as they did me) certainly raise an eyebrow. The question is ... do you live on one the top 25 Reading most saleable streets in Reading (RG6)?
Come back to my Reading Property Blog for the next article to find out!