The average person spends around 26 years of their life in bed.
With so much time spent in the bedroom, it's a huge surprise that Christmas decorations remain focused on the downstairs living spaces of our homes.
It's time to change that and take the Christmas spirit upstairs. These great cosy Christmas bedroom ideas can inspire you…
What makes a cosy bedroom?
To make your bedroom feel cosier, you should be thinking about:
Soft lighting
Thick throws
Large, plump pillows
Thick curtains to keep the heat in
Cosy bedroom ideas
Christmas is definitely the time of year to make your bedroom a warming, inviting space – whether it's for you or for guests staying over on the big day itself.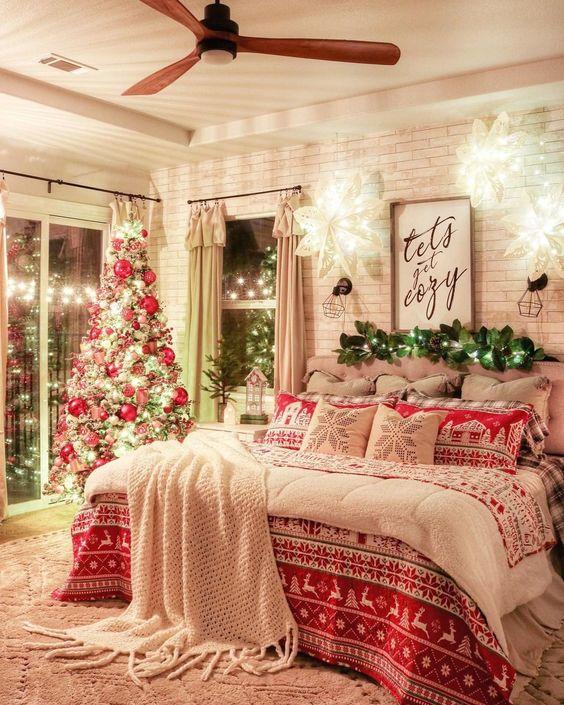 If you really want to go to town and truly get into the festive spirit, go big on throws and soft furnishings for your bed.
Thick layers of tartan or patterned linens and decorative cushions can really make a huge difference to how your bedroom feels.
If your room has hard flooring, throw down a nice thick rug to complete the look.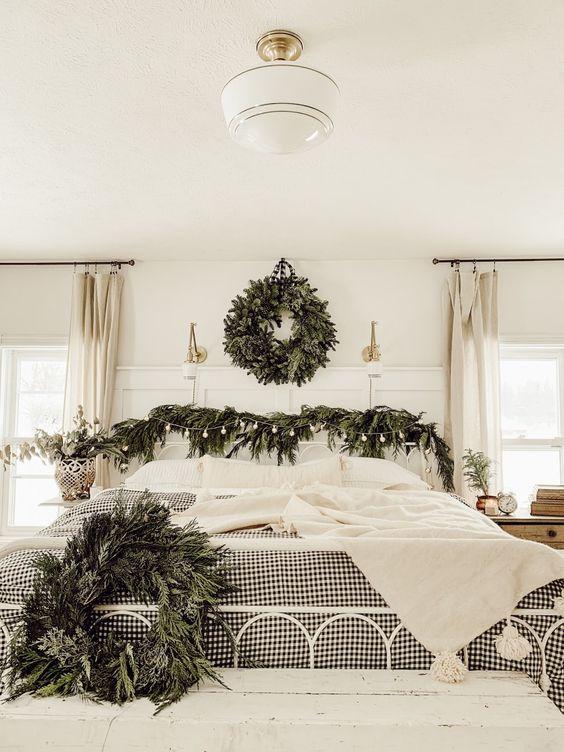 Even when it's cold on the other side of your bedroom windows, don't be afraid to bring the outside in with splashes of foliage for a real Christmassy feel.
Try laying a natural garland of foliage across your bed's headboard – not only will this look great, but the fragrances will add another layer of cosy Christmas cheer to your bedroom.
Cosy bedroom colours
When it comes to cosy Christmas bedrooms, colour is key.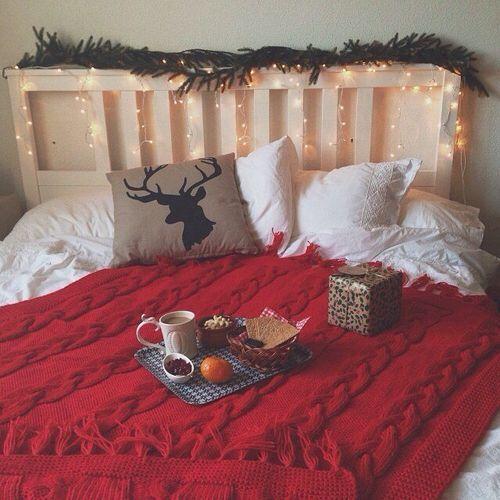 Of course, red really is the colour of Christmas, so don't be afraid to be bold.
Whether it's woolly stockings hanging from a bedroom fireplace, or a deep red throw across your bed, red is a colour that will always give your bedroom a cosy glow.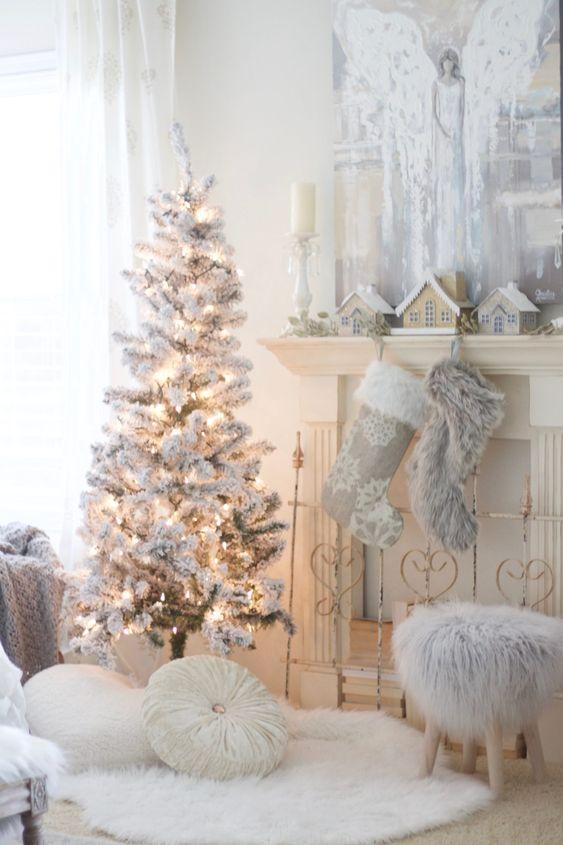 Lighter colours have their place, too, though and there's no purer colour than white to help your bedroom feel cosy this Christmas.
Whites and greys can really stand out if you use different textures across your bedroom, so for every wool item, throw in something lacy and elegant to offset it.
Cosy bedroom lighting
Lighting should always be at the forefront of your thinking when creating a cosy, Christmassy bedroom.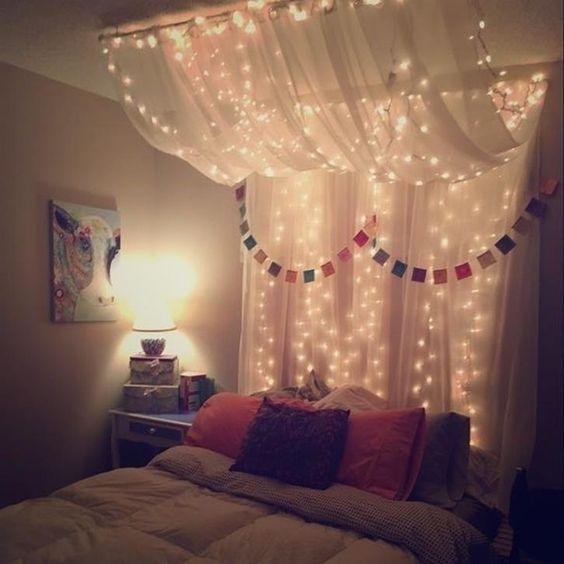 When it comes to lighting in a Christmas-themed bedroom, less is definitely more.
Avoid glaring, powerful lights and scale everything back to create a soft, relaxing ambiance.
Try creating a lace canopy of soft LED lighting over your bed for a really cosy feel.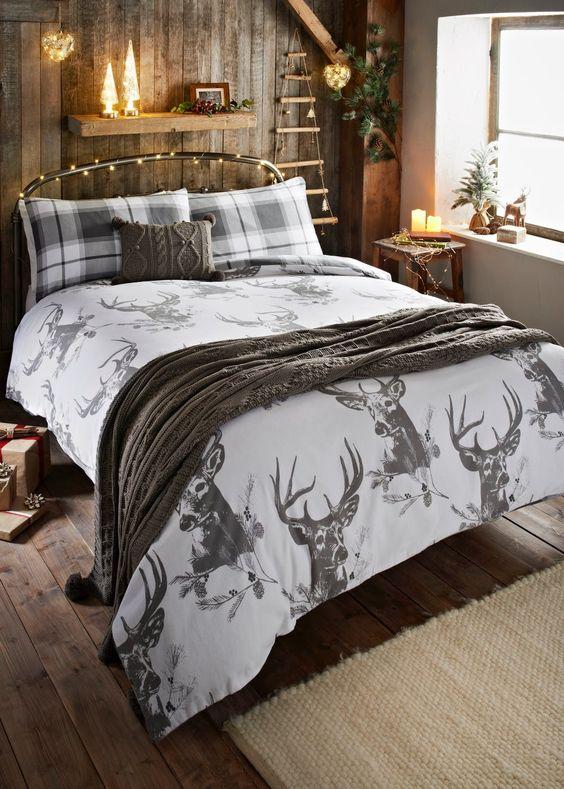 If your bed's headboard is free of a garland, wrap some LED lights around it, while placing some candle-effect, soft lighting around other areas of your bedroom – meaning you can avoid switching on your main bedroom light.
Further reading…
There are few better places to visit in the UK during Christmas than the Cotswolds. Our guide tells you everything you need to know about visiting the area during the festive season.
And if you're looking for more interior design inspiration, take a look at these top trends.