Back in 1999, the average price of a home in Reading was £83,554. In January 2018, it was £304,403.
It's fair to say, in 20 years at Parkers Tilehurst, Bruce Taylor has seen it all.
"Everything has gone 'internetty'," he laughs, adding: "Back in 1987 when I started in estate agency, we used to take the black and white camera out to take some pictures of a property and then an image would come out of the bottom of the camera, we'd slap it on some marketing page and run black and white photocopies!
"The business has changed dramatically since then."
On January 18th 1999, when Bruce purchased the Tilehurst branch of Parkers, Leeds United were top of the Premier League, boyband 911 were number one with 'A Little Bit More' and, presumably, Bruce's phone of choice was a Nokia 3210
On January 18th 2019, though, only one of the above will still be going strong at the top of its game: Bruce will be sitting at his desk in the Tilehurst office for a 20th consecutive year.
"It's been an amazing 20 years with some ups and some downs," admits Bruce. "The financial crash in 2008 was tough, but I still remember the recession in the 80s when dual tax relief ended. Back then you could buy a house for £50,000!
"The house price growth in this country over the past 20 years has been nuts. I remember in 1997 / 1998 you could buy a three-bedroom house over in Caversham Park Village for £75,000 and they go for up to £370,000 today."
Having started his career in property, selling advertising space for the Reading Chronicle's property section in 1984, Bruce got the bug and moved to Parkers Wokingham in 1987 - the start of a now 33-year love affair with the Berkshire brand.
After moving on to Parkers Langley in 1988, spells at other agencies in Maidenhead, Slough, Reading, Staines, Camberley, Tilehurst and Caversham followed, before Bruce and business partner Dale Kempson, who had met in 1988 at Parkers Langley, with Dale being the branch manager, took the plunge on the Parkers Tilehurst operation in 1999.
"The Parkers brand is synonymous with Reading and Berkshire, with Tilehurst originally opening its doors in 1968," adds Bruce. "I first started with Parkers in 1987 at the Wokingham branch and everyone knew Parkers within the Berkshire area.
"I had a lady recently come in to sell her house after we'd sold her previous one 40 years ago. She won't use computers, wants a local agent and remembers the name. The Parkers brand is very well known across the Reading area."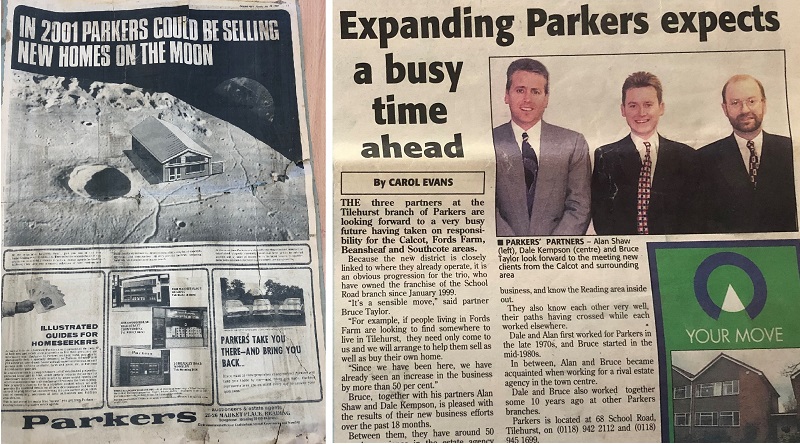 Left: Newspaper cutting from 1969. right: Newspaper cutting from 2000

With Tilehurst a success from the get-go, Dale and Bruce purchased the brand's Burghfield Common branch in 2001.
In 2010 they welcomed Simon Gregory as their new business partner. Being local to Tilehurst, Simon was working for another agency but jumped at the chance to part own the business and has certainly added to the success story - so much so that a third office in Theale was opened in 2013.
A fourth branch followed three years later in 2016 when the trio took on the Tadley operation.
"I've still got the passion, there's no doubt about that and we'll be here for a few more years yet," insists Bruce. "Who knows, we may yet still add to our portfolio of offices in the future.
"I'm proud of what has been achieved over 20 years at the Tilehurst branch but to be fair a vast amount of our success is down to our staff, as we would not be in the position we are without them, so I would like to take this opportunity to say a personal thank you to each one of them and to add we really appreciate their hard work and commitment."
But what about the next 20 years? Bruce laughs at the suggestion but is happy to offer a prediction for the next 12 months!
"I think Brexit will be a blip," he says. "It won't help us of course but we will come through it because we are in a well-paid area, with low unemployment and a strong rental market.
"The rental market is, of course, set to change with the implementation of the tenant fee ban, (although we are still awaiting a final draft from the government) with some landlords possibly considering their options, but long term I have no doubt it will settle down as the rental market within our area still offers yields of between 4% & 5% which is a return you will not receive on most investments.
"I have seen many agents come and go over the years and there's probably only two including us that have always been here. You do wonder if the market goes as it might, whether it will be sustainable for every one of those agents to stay in the village.
"It's very easy to walk away but you have to tough it out. That's what we did in 2008, we're still here today and we'll still be here for many years to come, I'm sure of that."