Be honest… you like to have a good singsong when you're cleaning, don't you?
If you're selling up, or you're a landlord preparing for a new tenancy, a deep clean is essential to catch the eye of potential buyers and tenants. So, if you're looking for a little musical inspiration to help you power through your property, we've ranked the most popular cleaning songs on streaming service Spotify…


The world's most popular songs to clean to
We love a good pun here at Parkers, so the sight of TLC's No Scrubs at the top of Spotify's most popular songs to clean to is great to see.
It's clear, too, from the top-10 that we Brits have varied tastes when it comes to cleaning tunes, as well, with the Hip Hop of Cardi B and pop of Harry Styles mixed with classics from the Spice Girls and even Dolly Parton.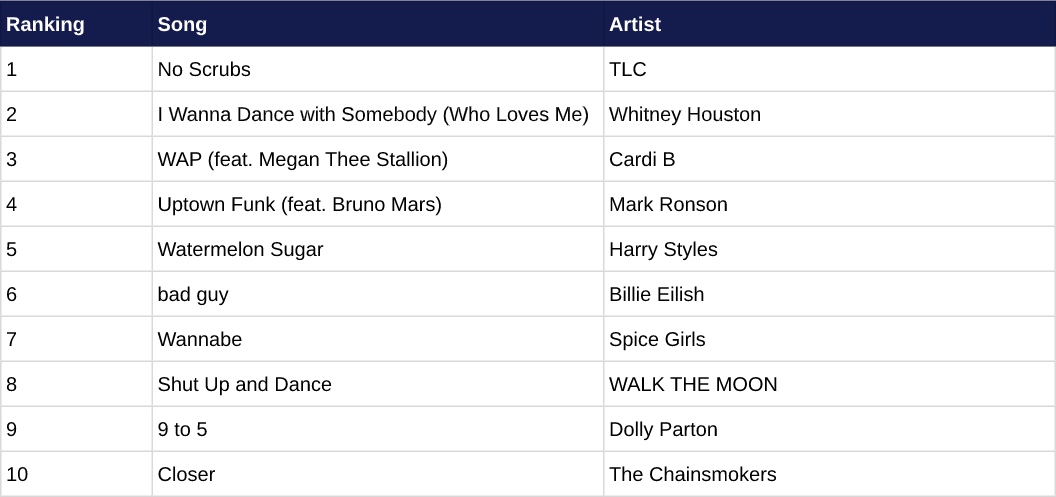 The world's most popular artists to clean to
When it comes to the world's most popular artists to clean to, the Americans rule the roost.
Ariana Grande, Bruno Mars and Cardi B top our list with a combined haul of 10 songs in the Spotify 'Cleaning Top-10'.
The Brits aren't far behind, though, with Harry Styles and Ed Sheeran completing the top-5. Britney Spears, however, is the only artist in the list with a hit from before the turn of the millennium, with UK cleaners clearly preferring more modern music as a backdrop to their cleaning activity.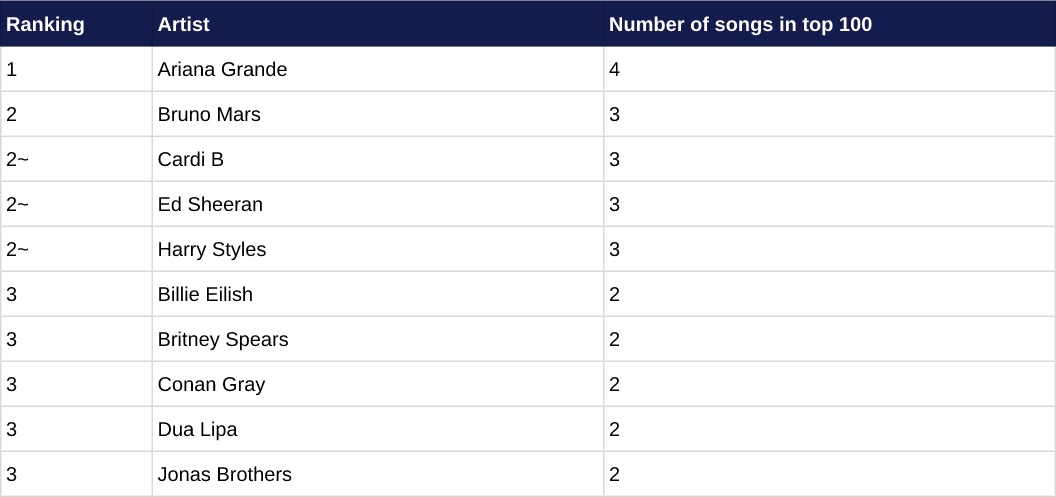 Most-searched bathroom cleaning questions

When it comes to cleaning, it's often the bathroom we all dread most.
And those feelings of fear appear justified when looking at the most searched-for cleaning tips on Google.
Grout and scaled-up shower heads always require a little extra elbow grease, so it was no surprise to find those particular bathroom tasks at the top of the list.
It was perhaps more surprising to see searches for mirror and glass cleaning tips, with both queries generating well over 1,000 monthly searches.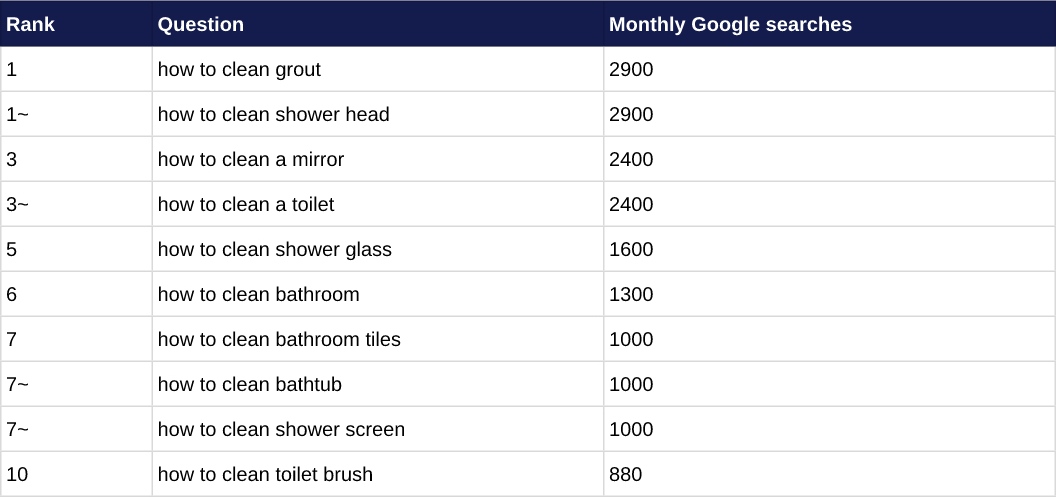 Most-searched kitchen cleaning questions

Kitchens are another part of the home that can require plenty of cleaning muscle.
The hunt for oven cleaning tips dominates our Google search list, with a collective 11,800 queries related to ovens and hob scrubbing advice.
Dishwashers, microwaves, kettles and pizza stone hints are also highly sought-after.


Most-searched bedroom cleaning questions

While bedrooms are subjected to same kind of grime that can affect your bathroom and kitchen, keeping them clean is always high on homeowner task lists.
Arguably the most awkward and time-consuming part of a bedroom when it comes to cleaning is the mattress, which tops our list of the most searched-for bedroom cleaning questions.
Fellow lumpy items follow in the duvet and pillows, while a question that has caused conflict and differing option for decades is next: How often should you wash your bed sheets?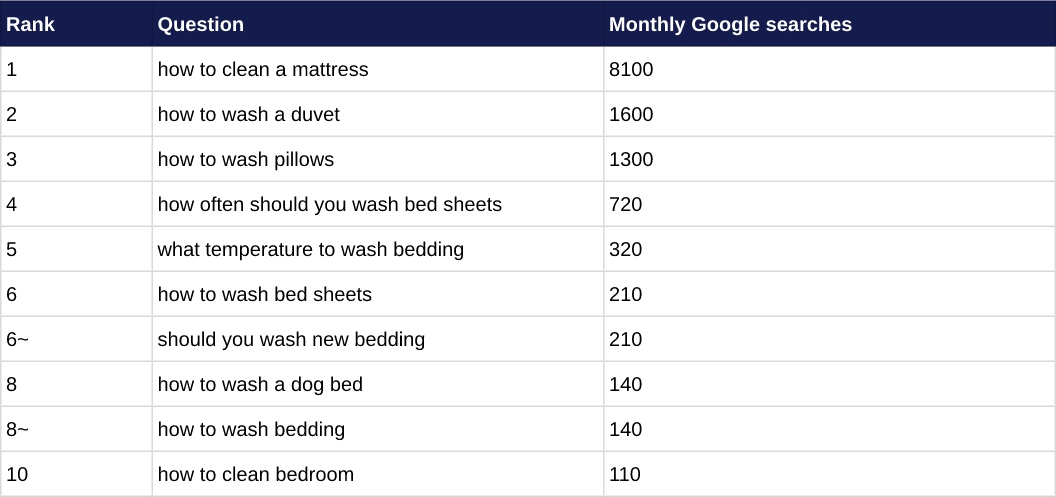 Most-searched outdoor cleaning questions

Arguably the best way to clean your windows if you're selling or set to rent out your property to a new tenant is to call in a professional window cleaner.
But we Brits are made of tough stuff, it seems, and with 4,400 monthly searches for window cleaning advice, it appears a huge number of us are having a go ourselves.
We've clearly been splashing the cash, too – with a combined 1,720 searches for hot tub cleaning tips.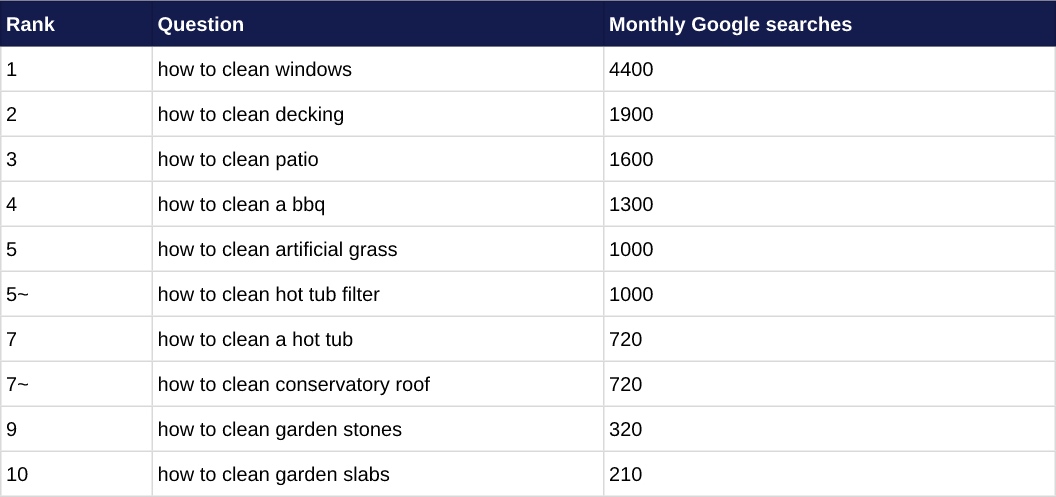 Spring cleaning tips

With coronavirus restrictions still in place across the UK, spring probably feels like a long way off for many of you.
But spring is, and always will be the best time for a good clean of your property.
Here are our top tips on how to get your house gleaming in 2021:
• Disinfect your cloths and sponges – Sponges and cloths can be home to huge amounts of bacteria, so wet yours with water and then blast in the microwave for two minutes to eliminate any nasties
• Clean your vacuum – If you want your vacuum to keep performing and keep your carpets clean, you need to give it a little TLC from time to time. Take it apart and clean all attachments and filters with a damp cloth and mild detergent
• Eliminate dishwater smells – Over time, dishwashers can become clogged with bits of food and grease, causing foul smells. To eliminate odours, fill a cup with vinegar and place it in the rack, with your normal detergent and then run a cycle
• Bring your carpets back to life – carpets can harbour smells, but you don't need specialist carpet cleaner to get rid of bad odours. Simply sprinkle some baking soda with a couple of drops of essential oil on your pile, leave for 30 minutes and then vacuum


Can landlords charge for cleaning?
Cleaning charges are one of the most common deductions made from tenancy deposits.
As cleanliness doesn't fall under the 'fair wear and tear' defence you have as a tenant, landlords can claim cleaning costs at the end of your tenancy if the property hasn't been left in the same state of cleanliness it was at the start of the tenancy.


Is professional cleaning required at end of tenancy?
To avoid potential deposit deductions to cover your landlord's post-tenancy cleaning costs, you should always ensure your rental property is left in the same condition as it was when you moved in.
Bringing in a professional cleaner at the end of your tenancy can be a cost-effective way of ensuring that's the case.
Professional cleaning isn't compulsory at the end of a tenancy, however, unless there's a stipulation in your tenancy agreement that says it is.


How much is an end of tenancy clean?
The average cost of an end of tenancy clean in the UK varies between £100 and £200, according to cleaning firm TwinkleClean. The overall cost of bringing in an end of tenancy cleaner, however, depends on how many hours' work is required to bring your property back up to its pre-tenancy standard.


Should sellers clean their house before closing?
While cleaning your home before new buyers move is very rarely a legal requirement, doing so is the morally correct thing to do.
It is possible for buyers to have a clause inserted into their contract stipulating that the property is left in a certain state of cleanliness, but in practice this can be tricky.
However, sales contracts do require that a property is left as 'vacant possession', meaning you must empty your home of all belongings other than items you've agreed to leave with the buyer.
---
Methodology: Parkers used a Spotify API on 14.01.21 to find:
• All 1000 playlists under the keyword 'cleaning', with a total of 196,988 tracks among them
• The top 10 songs are determined by how many playlists each track features in. In the event where different edits (i.e. radio edits or remastered tracks) of the same song by the same artist appeared more than once, the best-ranking version has been included in the final list and the others have been omitted.
The most-searched terms were pulled from SEMrush Keyword Magic Tool on 15.01.21, and represent UK searches only.