Nostalgia and 'vintage' are still very much en vogue in the UK.
And that means period properties are highly sought-after among home buyers.
Whether you're a landlord looking to appeal to a younger, trendier kind of tenant or a buyer with a taste for trends, period properties can help mix the old with the new and remain extremely fashionable.
However, as with any property, it pays to know what you're looking for before you start and our guide to period properties can help...
What is a 'period' property?
The word 'period' essentially refers to a period of time.
But in the case of property, a 'period' home refers to a property that was built before the First World War.
You'll also have heard the terms 'Victorian', 'Edwardian' and 'Georgian' when people talk about period properties and this refers to the ruling monarch when a property was built.
Queen Victoria ruled between 1837 and 1901 and Edward VII between 1901 and 1910.
The Georgian era was much longer, thanks to four successive kings bearing the name George - George I (1714-1727), George II (1727-1760), George III (1760-1820) and George IV (1820-1830).
Why period homes are so popular
Despite the passing of time, particularly since the Georgian era, there are still millions of period properties standing strong in the UK.
And their popularity shows no sign of waning, either.
Why?
Well, firstly their styles have stood the test of time and the popularity of vintage and nostalgia has seen period properties grow in value far more than more modern homes.
Indeed, according to the Halifax, properties built before 1919 have grown in value by 461% since 1986.
But it's not just aesthetics that keep period property high on the wish lists of buyers.
You may have heard someone refer to an older property as a 'solid house'.
And they'd be right.
Back in the Georgian, Victorian and Edwardian eras, good quality building materials and land were more readily available and, as such, period properties tend to have larger rooms and a much more superior build quality, including thicker walls.
After all, they're still standing despite their many years and despite all that wear and tear.
Many UK house hunters have problems establishing what period properties fall under, though.
So, we've outlined the main differences and things to look out for from the three main types of period home in the UK.
Georgian properties
If you like your properties in proportion, then that is one of many reasons why you should consider a Georgian property.
Formulaic and symmetrical, Georgian properties usually boast tall windows and are often built in identical rows.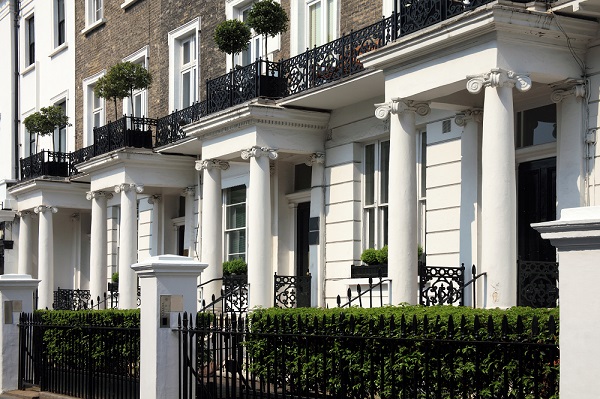 Some of London's best Georgian properties, for instance, have huge, heavy black main doors framed by white stucco-rendered pillars.
These types of property, which are also prevalent in places like Cheltenham, were largely built during the Regency period, which was the final nine years of the Georgian reign when George IV was Prince Regent.


Victorian properties
Despite its popularity with buyers today for its style, Victorian homes were generally built out of necessity than art.
Between 1841 and 1901, the population of the UK more than doubled.
And that mean a huge rise in space-saving terraced homes simply to house the burgeoning numbers on UK soil.
Once the brick tax, which held back builders until 1850, was removed, construction of homes started with smaller bricks and large bay windows - common with the remaining Victorian properties today.
Interior Victorian features at the time focused on ornate fireplaces, skirting boards and coving and these are very much the features to look out for today if you're looking to buy a Victorian home.
Edwardian properties
Edward VII was bold and extroverted and so a boom in house building between 1901 and 1910 very much reflects his style.
Edwardian properties are generally wider with larger gardens for parties and the properties were generally built with style in mind rather than the practical focus of the Victorian era.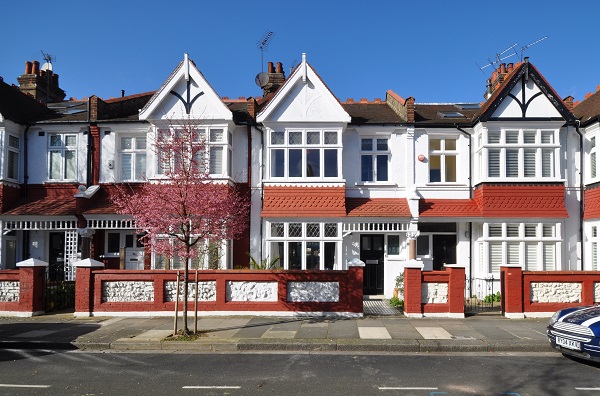 Sometimes set back from roads with front gardens (unlike Victorian terraces), many Edwardian properties also made use of porches for additional privacy, while also bringing in more windows and wider hallways and rooms.
More wood was also used for styling, with parquet flooring inside and faux Tudor cladding on the outside


Period homes and interiors
The first thing to do when buying a period home is to try to retain the main features of the property's era.
There's little point in buying a Victorian home, for example, if the first thing you do is block up an ornate fireplace or rip out traditional coving and skirting boards.
If those period features are looking worse for wear, this can be tempting.
But a short hunt around a salvage yard can often yield some period gems, meaning you can replace like for like and maintain the lovely character of your period home.
Don't be afraid to mix up modern with traditional, either.
Most period homes boast high ceilings, so make use of them with bold lighting statements.
For Victorian homes, don't be afraid to go darker with paintwork - a gothic feel can really bring out period features like fireplaces and ornate coving (which should remain white).
Finally, period properties tend to have many small nooks and crannies that can make great storage solutions.
For instance, the space either side of a Victorian or Edwardian fireplace can make a great space for a small library - and it will look fantastic too.
At Parkers we have properties of all styles available
to rent
and
for sale
, take a look to see if we have your dream home.